Podcast: Play in new window | Download
Subscribe: Apple Podcasts | Google Podcasts | Stitcher | Email | TuneIn | RSS | More
Before Cher, Lady Gaga, J Lo there was the biggest queen of them all!  LIBERACE!  Liberace was known for his extravagant lifestyle, glitzy costumes, candelabra, and extraordinary showmanship all made him famous as his piano playing.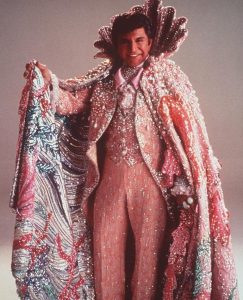 He died of cytomegalovirus pneumonia as a result of AIDS on February 4, 1987.  The showman had been diagnosed with Aids in August 1985 by a private physician in Las Vegas – a fact which was hidden from the public. He didn't seek any medical treatment for his condition and his illness was a secret until the day he died.  He was 67 when he passed away at home in Palm Springs, California.  But it seems like Mr. Showmanship has been making his presence known all around Vegas.
On Ep. 40, Season 4, we talk about the life and afterlife of Liberace.  We also talk about his paranormal association.  Is it possible that he is still creating music from the other side through those who purchase his pianos?  Is it his spirit that people see at the former Tivolis Restaurant and his museum?  Tune in to find out!