Podcast: Play in new window | Download
Subscribe: Apple Podcasts | Google Podcasts | Stitcher | Email | TuneIn | RSS | More
Jayne Mansfield was on her way to becoming THE blond bombshell of the 60s, having already achieved a great deal of success as an actress, singer, and even an early Playboy Playmate.  SADLY her life would  end tragically on a highway outside Biloxi, Mississippi.  Her death was said to have been caused by a curse gone awry, but was the "curse" nothing more than a publicity stunt arranged by the founder of the church of satan?  How did Hollywoods sex siren meet such a tragic and gruesome death?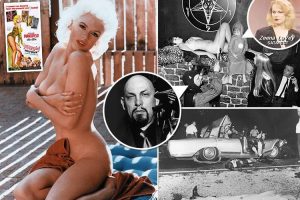 The Paranormal Aftermath
IT SEEMS THAT JAYNE'S SUPPOSED CURSE LINGERED PAST THE IRON GATES OF HER ESTATE AND INTO THE LIVES OF THOSE WHO VISITED AND LIVED WITHIN THE PINK PALACE'S WALLS.  BUT WAS it JAYNE'S ANGRY SPIRIT RESPONSIBLE FOR THE STRANGE OCCURRENCES  THAT SCARED OFF THE ESTATE'S WORKERS AND NEW TENANTS ?  WHO KNOWS , THE GHOST CANT HELP IT !
THIS IS THE TRUE CRIME AND PARANORMAL AFTERMATH OF JAYNE MANSFIELD.
Browsing for a new hosting site?  Wanna start your own podcast?  Then Blubrry is the perfect place to start!  Use our promo code WEIRD for a free month with Blubrry ? Click on the tab link below!