Podcast: Play in new window | Download
Subscribe: Apple Podcasts | Google Podcasts | Stitcher | Email | TuneIn | RSS | More
Drive around Hollywood neighborhoods and you can see buildings and structures that have been around since the development of the city.   The art deco structure and their unique designs can almost tell stories of the golden era.
Many of these structure were owned by major production companies, MGM, RKO, Warner, Paramount and 20th century Fox.  Their purpose was to house fresh and new actors/actresses during their transition period in Hollywood.    
Within time these structures have seen many deaths, suicides and strange occurrences.  Eventually they were passed down to different owners and were bought by other companies to turn them into public apartments.  However, there is that saying, "if these walls can talk…" in a lot of these dwelling, they literally do. Press your ear against the wall, and you might hear something.  Can it an old famous Hollywood resident that is trying to communicate with you from beyond the grave?  Or could it be something else?  We also talk about  sipping mimosas with Mae West's ghost, LA rent and one famous Hollywood Hotel/Apartments that was the inspiration of Disney's Hollywood Tower of Terror Ride.  Brice also shares his first Hollywood party experience on the rooftop of famous apartment building LOL!  Stay tuned!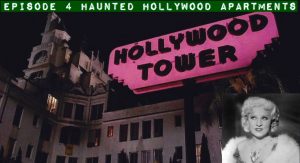 If you love Hollyweird Paranormal , we'd love for you to subscribe, rate, and give a review on iTunes. IT REALLY HELPS US OUT A LOT AND IT HELPS US BECOME A LITTLE MORE VISIBLE.
CAN'T GET ENOUGH OF HOLLYWEIRD PARANORMAL?  THEN STALK US ON INSTAGRAM & FACEBOOK @HOLLYWEIRDPARANORMAL & TWITTER @HWPPODCAST.  HAVE A STORY FOR OUR LISTERNER  STORIES EPISODE?  THEN EMAIL US AT HOLLYWEIRDPARANORMAL@GMAIL.COM
CATCH UP WITH OUR PAST EPISODES ON ITUNES, BLUBRRY, STITCHER, SOUNDCLOUD, GOOGLEPLAY & PODKNIFE