Podcast: Play in new window | Download
Subscribe: Apple Podcasts | Google Podcasts | Stitcher | Email | TuneIn | RSS | More
East West Players is an Asian American theatre organization in Los Angeles, founded in 1965. As the nation's first professional Asian American theatre organization, East West Players continues to produce works and educational programs that give voice to the Asian-Pacific American experience today.
According to the theatre's website
"East West Players' current home is in the upper 3 levels of the Union Center for the Arts in the northwestern end of the Little Tokyo Historic District. The company had spent the previous 32 years since its founding in a 99-seat theatre in Silver Lake before moving to the new David Henry Hwang Theatre in the Union Center for the Arts in 1998. The Union Center for the Arts was formerly Union Church, the combined home of three Japanese American congregations, was completed in 1923. With the onset of World War II, it was in front of this building that residents of the district joined the residents of Terminal Island, whose community had been razed 48 hours after the attack on Pearl Harbor. Residents lined up with a single suitcase allowance awaiting transportation to join 10,000 people sent to the War Relocation Center in Manzanar in 1942. Most of those transported to the internment camps lost all of their property and were unable to return to living in their old community after the war, scattering the population throughout the city.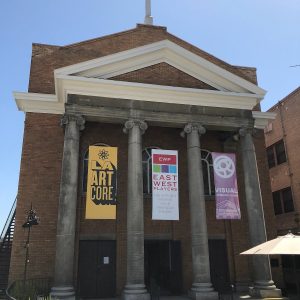 During the war, the building was used as a community center for African Americans arriving from the deep south in search of work in wartime industry as part of the 'Great Migration'. The neighborhood had some of the only housing in the city that did not have restrictive housing covenants based on color, and quickly became highly populated. Three years into the war, the neighborhood was renamed Bronzeville, and was home to crowded conditions and 'breakfast clubs' – jazz clubs that were known to stay open until dawn. In 1943, a part of the 'Zoot Suit Riots' spread into the area. At the close of 1945 the Japanese Americans gradually began re-establishing a community center, where Little Tokyo remains a very diverse part of central Los Angeles.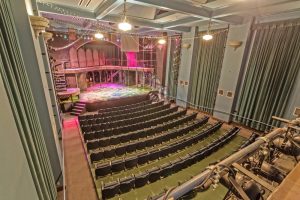 The building located on Judge John Aiso Street was damaged during the 1994 Northridge earthquake, leaving it unusable. The Little Tokyo Service Center Community Development Corporation completed a multi-million dollar renovation of the building in 1998 to house three arts organizations – the East West Players, Visual Communications, and LA Artcore. "
BUT!  What is causing the haunting at this historical location? Well, tune in to find out what we uncover and what makes its presence known!
CATCH HOLLYWEIRD PARANORMAL AT THE FIRST ANUAL PARAPOD FEST MARCH 31- APRIL 1
FOR DETAILS, STAY AND TICKETS CLICK HERE