Podcast: Play in new window | Download
Subscribe: Apple Podcasts | Google Podcasts | Stitcher | Email | TuneIn | RSS | More
Author, Joris Karl Huysmans once stated,
"Worshiping the Devil is no more insane than worshiping God…It is precisely at the moment when positivism is at its high-water mark that mysticism stirs into life and the follies of occultism begin."
In 1985, recent film-school graduate Will Allen found what appeared to be an exciting community in LA. While searching for the meaning of life and community, Allen was lured by a charismatic South American-born guru known as Michel. With little hesitation, he joined Buddhafield, a group where love and enlightenment flowed in abundance.
It wasn't until 22 years later that Allen realized he belonged to a cult.  Allen's film, Holy Hell tells his tale and the secrets of The Buddhafield along with its leader.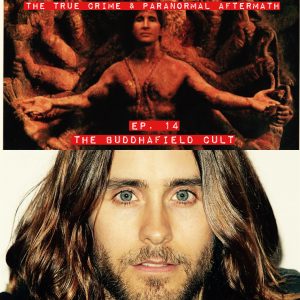 The Paranormal aftermath, actor, singer, songwriter, and director Jared Leto was one of the producers of Holy Hell.  While visiting the ghosts of Buddahfield's past Jared was dealing with supposed ghosts of his new home in Laurel Canyon.
So ditch the flavor aid, grab a smoothie and slip into you favorite speedos, this is the True Crime and Paranormal aftermath of The Buddhafield Cult.
Browsing for a new hosting site?  Wanna start your own podcast?  Then Blubrry is the perfect place to start!  Use our promo code WEIRD for a free month with Blubrry ? Click on the tab link below!