Podcast: Play in new window | Download
Subscribe: Apple Podcasts | Google Podcasts | Stitcher | Email | TuneIn | RSS | More
The finale of our Season 1 and PT.2 series of The True Crime and Paranormal aftermath of Marilyn Monroe.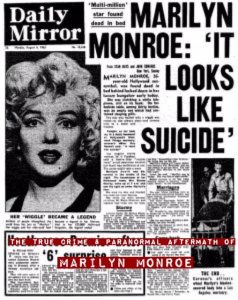 When movie goddess Marilyn Monroe's naked body was found on her bed at her Hollywood home, it was assumed she had killed herself by consuming an insane amount of barbiturates .  Devastated by tangled affairs with American President John F Kennedy and brother Bobby, the 36-year-old star of The Seven Year Itch and Some Like It Hot was said to have overdosed on sleeping pills.  But so many things didn't add up that conspiracy theories began immediately.  Who wanted her killed?  The Kennedy Brothers?  The CIA? The Mafia? Paul Lawson with the aide of Eunice Murray & Dr. Greenson?
We also go into her paranormal aftermath.  There are claims that she is still seen and felt at The Roosevelt Hotel, The Cal Neva Hotel & Casino & her Brentwood home.  What about her old flame Bobby Kennedy?  Does he still walk around the area where he was gunned down here in L.A.