Podcast: Play in new window | Download
Subscribe: Apple Podcasts | Google Podcasts | Stitcher | Email | TuneIn | RSS | More
Tammie and Brice share stories of their first paranormal experiences along with two listener tales!  Brice shares two unusual experiences when he encounters strange lights over a set of train tracks and an evil figure in a country field.
A listener experiences an eerie silence in the woods while hiking with his wife and brother-in-law.  They soon find out that someone or something was following them all along.  Another listener shares her first experience with a ouija board and the icy effects it left.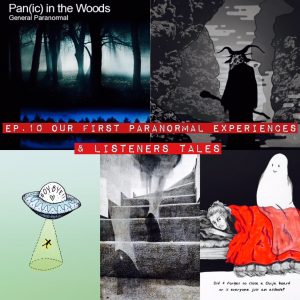 If you love Hollyweird Paranormal , we'd love for you to subscribe, rate, and give a review on iTunes. IT REALLY HELPS US OUT A LOT AND IT HELPS US BECOME A LITTLE MORE VISIBLE.
CAN'T GET ENOUGH OF HOLLYWEIRD PARANORMAL?  THEN STALK US ON INSTAGRAM & FACEBOOK @HOLLYWEIRDPARANORMAL & TWITTER @HWPPODCAST.  HAVE A STORY FOR OUR LISTERNER  STORIES EPISODE?  THEN EMAIL US AT HOLLYWEIRDPARANORMAL@GMAIL.COM
CATCH UP WITH OUR PAST EPISODES ON ITUNES, BLUBRRY, STITCHER, SOUNDCLOUD, GOOGLEPLAY & PODKNIFE