Podcast: Play in new window | Download
Subscribe: Apple Podcasts | Google Podcasts | Stitcher | Email | TuneIn | RSS | More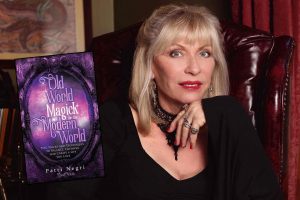 1ooth Episode Special!  We can't believe we made it to 100 episodes!  We needed to celebrate this occasion with our special guest and friend, Hollywood's witch, Patti Negri!
Patti Negri, Psychic-Medium and "Good Witch" is best known for her recurring role on the Travel Channel & Discovery Plus's #1 show GHOST ADVENTURES and the #1 paranormal show on YouTube TFIL WITH ELTON CASTEE. She is the international bestselling author of OLD WORLD MAGICK FOR THE MODERN WORLD: TIPS, TRICKS, & TECHNIQUES TO BALANCE, EMPOWER, & CREATE A LIFE YOU LOVE. Patti's body of work includes appearances on dozens of shows from MASTER CHEF, WipeOut and America's Got Talent to Influencers, YouTubers and crossover talents like Lilly Singh, LaurDIY, Good Mythical Morning and AwesomenessTV. She has graced numerous magazine covers, contributed to over 20 books and conducted seances on radio, film, and TV working with such legends as Emma Stone, Jon Voight, Josh Duhamel, Chevy Chase and Gregory Hines.
Patti has a popular weekly podcast called The Witching Hour and has just launched her second weekly podcast, Patti Negri's Haunted Journal.
Patti is partner and Vice President of paraflixx.com Streaming Service, and partner and educator at University Magickus an online Spirituality School.