Podcast: Play in new window | Download
Subscribe: Apple Podcasts | Google Podcasts | Stitcher | Email | TuneIn | RSS | More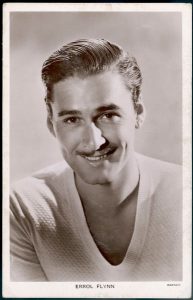 He was known as the Tasmania Devil, The Swashbuckler, and The Baron of Mulholland Errol Flynn was the most dashing and reckless actor to take Hollywood by storm in the 1940s. But Flynn's antics off-screen far overshadowed his brief but brilliant prime as the biggest box-office star at Warner Brothers.  He was LEGEND.  But sometimes legends can turn out to be darker.  With scandalous whispers of being a nazi spy, heroine trips, and two-way mirrors and sex parties in his Mulholland it was no wonder he was introduced with the promiscuous catchphrase, "In like Flynn"  in ep. 93 we will take a dive into Errol's early life, career and death.  In the Paranormal Association, we learn that Tracy Nelson the Daughter of former teen heartthrob and singer Rick Nelson had lived in one of Flynn's most notorious homes.  It was there where she claimed to have been haunted by the spirit of Errol Flynn and had witnessed the chain of events that led to her father's tragic end.  So grab some salt, pour yourself a martini, and get comfortable as we talk about the Life and paranormal aftermath of Errol Flynn, Hollywood's handsome devil. 
Trigger warning 
Please note that this episode contains depictions of addiction & sexual assault that may be triggering to some listeners
.   Listener discretion is advised.  If you or someone you know has been a victim of sexual assault please contact the Natl Sexual Assault Hotline at 1800656HOPE that's 18006564873 for confidential 24/7 support  Or visit www.rainn.org.  
Magic Mind!
Be your best-focused self with Magic Mind and save 40% off your subscription or 20% off of your purchase by using the code Hollyweird20.  Click on the link for more details 😀 www.magicmind.co/hollyweird