Podcast: Play in new window | Download
Subscribe: Apple Podcasts | Google Podcasts | Stitcher | Email | TuneIn | RSS | More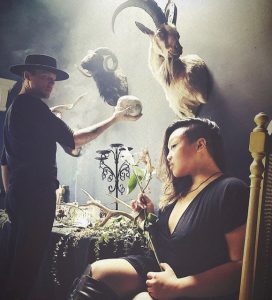 Join us friends as we cross this threshold with these two witches, Zachariah the Witch ( head of the Black Hat Society of Southern California, Los Angeles) and his assistant, Valentine Valmoria.   Lets sit down with them and learn more about witchcraft, spirits, death, and seance.  Learn more about the tools and knowledge you'll need to embark in your journey with the craft.   For more information about The Black Hat Society of SoCal LA then click on this link Black Hat Society.
Get a discount on your reading with Zachariah by subscribing to Hollyweird Paranormal on Apple Podcasts and mentioning this episode.  Follow Zachariah the Witch on IG @Zachariahthewitch and Valentine Valmoria @ohhellovalentine.
Wanna become a patreon?  Wanna help produce an episode of Hollyweird Paranormal then head on over to our patreon page by clicking here.