Podcast: Play in new window | Download
Subscribe: Apple Podcasts | Google Podcasts | Stitcher | Email | TuneIn | RSS | More
Shirley Temple was the internationally popular child star of the 1930s, best known for sentimental musicals. For much of the decade, she was one of Hollywood's greatest box-office attractions until Tinseltown led her to retire a young age.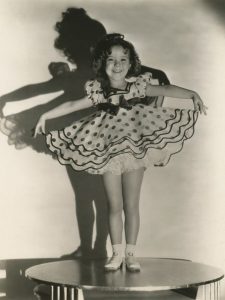 In today's episode we talk about the life and career of Shirley temple and America's obsession with the Curly Top star.    We also discuss and dissect the history of children in film and Hollywood Pedophilllia ring.  Did the Baby Burlesk films that Temple starred in have sexually suggestive undertones?  What happened to the child star as she got older and left Hollywood?
The Paranormal Aftermath
Even though there are no Shirley Temple ghosts we found out the there are ghosts that linger around Fox Studios as one of our listeners, Jessica, shares her ghostly tales of working with a ghostly hooded figure at her Job at Fox Studios.  You don't want to miss that interview.
Preview our our new installation for our Patreon page!!!
SATURDAY NIGHT GHOST CLUB!  BECOME A HOLLYWEIRD PARANORMAL PATREON AND ENJOY ACCESS TO OUR BI WEEKLY GHOST STORIES RECORDED OF THE STREETS OF LOCAL GHOST TALES.  PREVIEW THE STORY OF THE FRAGGLE!  TO JOIN FOLLOW THE LINK BELOW!
Head on over to Ghosts of Cielo Drive to grab your copy of David Oman's book.  One of the most gruesome and notorious murders of our time was committed on AUGUST 8th,1969 when Charles Manson's "Family" descended on Roman Polanski's residence on Cielo Drive in Beverly Hills and brutally murdered 5 people including Polanski's wife, actress Sharon Tate.  While the original house no longer exists, filmmaker David Oman built his house a mere 150 feet from the site where the grisly murders took place. Oman is convinced that the murder victims still haunt his residence to this day. And he is not the only one. Paranormal experts and psychics from the world over have visited Oman's residence and have dubbed it "The Mount Everest of haunted houses" and "The D-land for the Dead" for the amount of paranormal activity that occurs there.