Podcast: Play in new window | Download
Subscribe: Apple Podcasts | Google Podcasts | Stitcher | Email | TuneIn | RSS | More
Over a period of 14 months, Richard Ramirez, aka "Night Stalker," killed 13 people and attempted to kill five more across California.  In a span of one year, Ramirez kept LA on edge with his murderous rampages.  Today he is known to be one of the most notorious serial killers in history.  On today's episode  we talk about Richard's childhood,  dark journey into a life of crime and satanism.  We also talk about his trial and the women who loved, fought and admired The Death Row Romeo.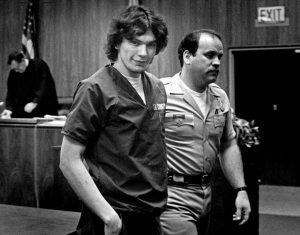 The paranormal aftermath, we sit down with author Mario Becerra of "Haunted East Los Angeles" as he shares a tale about a family who experienced a dark and negative entity after their son locked eyes with Ramirez during his arrest.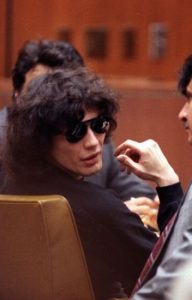 What led Richard Ramirez to commit these violent crimes?  Was it Nature or Nurture?  Or was it something unearthly ?
Did Richard imprint a negative force that attacked a family in their East LA home after they locked eyes with the killer?
 JOIN US!  As Hollyweird Paranormal travels back in time  for Season 3.    So join us as we time warp through this killer decade of THE 80'S
**Side note : please pardon the volume on our interview with author Mario Bacerra.  We are true crime enthusiasts and  para-nerds not sound engineers.  We do our very best to improve the sound of our Face Time interviews.  Headphones are recommended for that portion.  Also the following episode contains violent and graphic content, listener discretion advised. Now lets get Hollyweird.